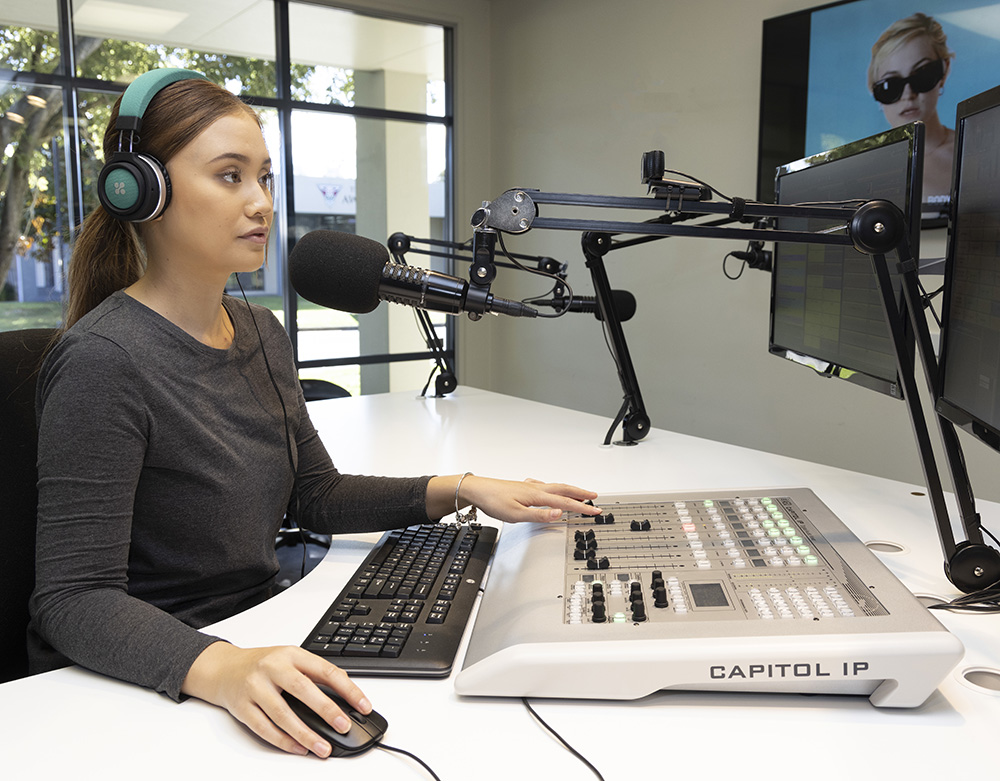 New Zealand Diploma in Radio Broadcasting (Level 5)
This programme is designed for students new to the radio broadcasting industry or students thinking about a career in radio broadcasting and related media industries and environments.
The courses provide the students with a range of learning opportunities and media contexts to develop communication as well as radio media skills and knowledge for applied radio broadcasting contexts. On completion of this programme, graduates will be able to enter the industry in areas such as presenting, production, programming, marketing, sales, brand management, studio engineering, creative writing, journalism, and digital content management.

What you will learn
Graduates will be able to…
Create and present information and entertainment content for use in radio broadcasting and related media environments that meet legal and ethical requirements
Apply relevant media production business practice to production processes
Research and analyse the social, political, economic, cultural, and historical conditions relevant in the radio broadcasting and related media environments, to inform radio broadcasting and media practice
Work reliably, independently, and collaboratively in order to operate effectively in a professional media environment.
Dates
19 February 2024 to 26 November 2024
Duration
40 weeks including 6 weeks of school holidays
Commitment
Face to face and blended delivery comprised of noho, wānanga, mixed mode and field visits/practice.
Applications close
Open applications
Location
Building 1, 19 Lambie Drive, Manukau, Auckland.

Entry requirements
NCEA level 2 or equivalent qualification/work experience AND evidence of ability based on interview and voice test.
This programme is suitable for school leavers aged 16 years.
Pathway to
View link for details
Fees
Tuition fee: $6,874.00

You may be able to get one year's study fees-free: Fees Free Student Information
Click here to enrol on our Diploma in Radio Broadcasting, beginning February 19, 2024.